Top
Virtual Leodium project
My role
Since 2011, I am in charge of the project (3D reconstruction, data model and software development).
Description
Virtual Leodium is an interdisciplinary project aiming to develop an archaeological information system based on a scale model representing the city of Liege around 1730.
In 2009, the Virtual Leodium project was launched promoting access to a larger public and assuring the conservation of the scale model. The acquisition of the scale model by the technology of 3D laser scanning was the starting point of this interdisciplinary project gathering skills in geomatics, archaeology and physics. The main goal of this project is to develop an urban archaeological information system.
The Virtual Leodium project is done in collaboration with the Artistic Collections of the University of Liege and the Cultural Heritage Centre of the University of Liege libraries network, respectively the owner and curator of the Gustave Ruhl scale model.
The scale model.

3D reconstruction.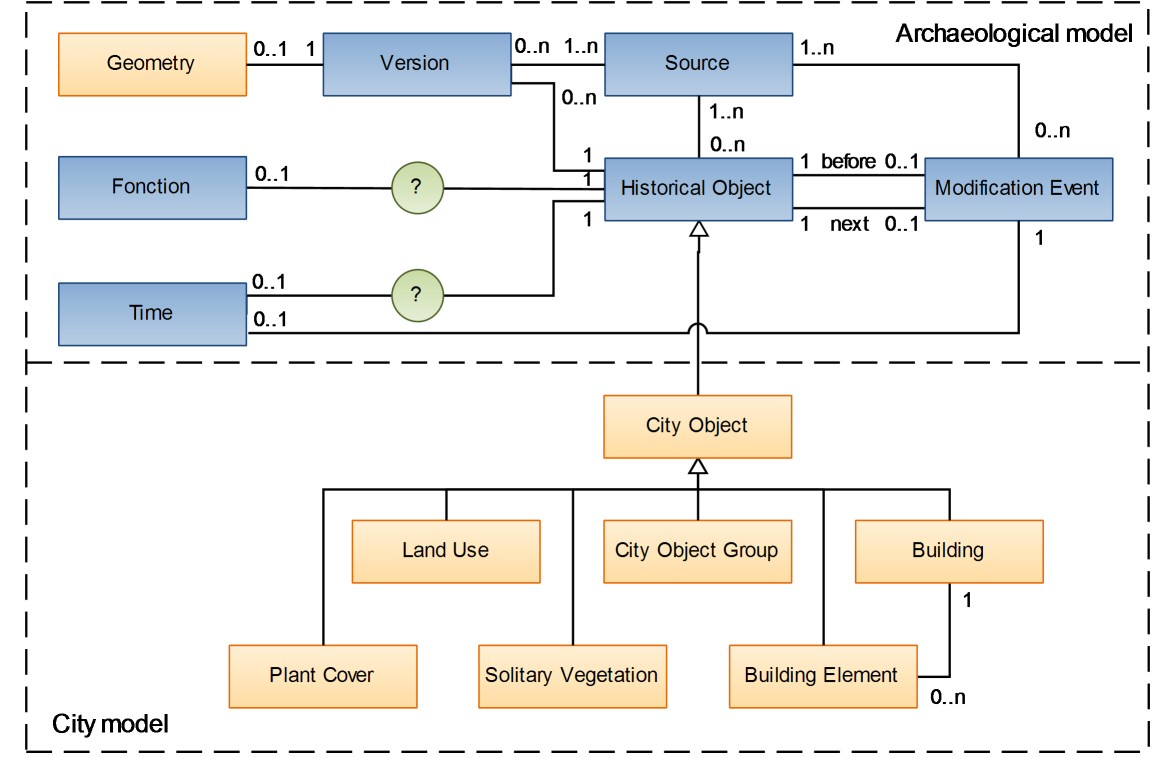 Virtual Leodium information UML model.

Snapshot of the current version of the Virtual Leodium software prototype.
Presentation of the project (in French).
Virtual Leodium - 3D digital modelling of the City of Liege
Collaborations
Publications
Pfeiffer M., Carré C., Delfosse V., Hallot P., Billen R., Virtual Leodium: from an historical 3D city scale model to an archaeological information system, CIPA 2013 Symposium - Recording, Documentation and Cooperation for Cultural Heritage, Strasbourg / France, 2013
Pfeiffer M., Carré C., Delfosse V., Billen R., Virtual Leodium: development of an archaeological information system, a case study on an historical 3D city scale mode, AGILE 2013 - Workshop on integrating 4D, GIS and Cultural Heritage, Leuven / Belgium, 2013
Billen R., Carré C., Delfosse V., Hervy B., Laroche F., Lefevre, D., Servières M., Van Ruymbeke M., 3D historical models: the case studies of Liege and Nantes, 3D issues in urban and environmental systems, Società Editrice Esculapio Srl, Bologna / Italy, 2013
Hervy B., Billen R., Laroche F., Carré C., Servières M., Van Ruymbeke M., Tourre V., A generalized approach for historical mock-up acquisition and data modelling: towards historically enriched 3D city models, Usage, Usability, and Utility of 3D City models, ISTE Ltd, London / United Kingdom, 2012
Billen R., Blain P., Carré C., Habraken S., Renotte Y., Silva V., Van Ruymbeke M., Virtual Leodium : Maquette virtuelle de la ville de Liège au dix-huitième siècle (Virtual Leodium: Virtual model of the city of Liège in the eighteenth century), Archéométrie 2011. Colloque du GMPCA, Liège / Belgique, 2011
Virtual Leodium in the press
Mairlot M., Nouvelles vies pour la maquette de Ruhl, La Chronique n° 358 (octobre- décembre 2013), Liège / Belgique, 2013
A la découverte de Liège en 1737, grâce à une maquette en 3D de l'ULg, La Meuse, Liège / Belgique, 2013
---
Copyright © - 2011 - 2015 - Cyril Carré - Unité de Géomatique - Collections artistiques de l'Université de Liège