Top
COVER
My role
In 2010, I designed and developed this software when I worked at Ifremer in the Department of Deep-Sea Ecosystems. I maintained the software code until 2014.
Description
Image footage from Remotely Operated Vehicles (ROVs) or drop-frame cameras are often used to classify geological and biological data in the deep-sea. However, this image footage is coming from different sources (depending on equipment and camera type, etc.) and it is up to the scientists to optimise the results retrieved from these images. One important step in this direction is the standardisation of the analysis of the image material, e.g. using specific annotation software.
In 2010, several software applications for oceanographic annotation were available. However, my review of existing software revealed that none met the requirements within the European fp7-funded CoralFISH project. In this context, I developed the COVER (Customizable Observation Video imagE Record) software application. It allows the user to load navigation files, images and digital videos. A flexible interface is made based on knowledge tables containing information about subjects of interest, such as species, substrate and habitat types and anthropogenic impact. COVER is able to create frame grabs automatically on a certain time and/or distance interval. This program facilitates standardisation of image analysis by using common knowledge tables.
Main features
Annotation module
Advanced image viewer
Video player
Snapshots generator
Map module

The annotation interface is customizable.

You can add or remove objets.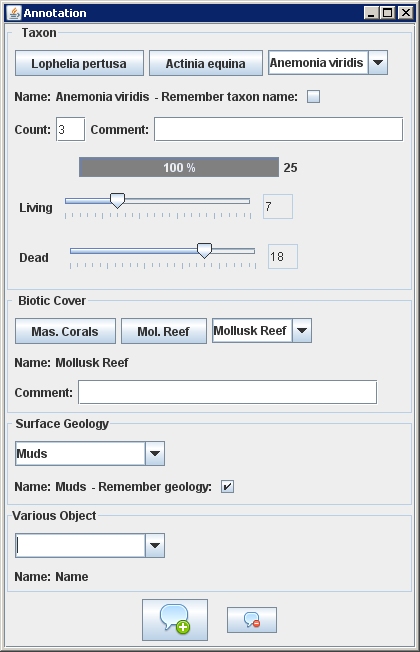 You can add or remove buttons, slides, text box, etc.

The software is designed to handle hierarchical lists.

The image module.

The video module.

The map module.
Resources and links
Ressources
Links
Publications
Guillaumont B., Carré C., van den Beld I., Davies J., Analysing videos and still images of vulnerable marine ecosystems in the deep-sea: a practical application using COVER, MESH Atlantic Workshop, Faro / Portugal, 2011
Guillaumont B., Carré C., van den Beld I., Beuck L., Davies J., Methodology of annotating videos and still images and development of the software COVER, MESH Atlantic Workshop, Faro / Portugal, 2011
Guillaumont B., Carré C., van den Beld I., Beuck L., Davies J., Annotating optical images from ROVs or drop-frames in Vulnerable Marine Ecosystems studies, GeoHab 2011, Helsinki / Finlande, 2011